KINESINAS
W Hotel, Santiago, Chile. 2018
Francis House, Santiago, Chile. 2018
Kinesina, Burning Man, United States. 2015
​
​The different tendencies and techniques present in the pieces, with the concepts of Digital Art and also the Kinetic Art in the different degrees of interaction with materials and research of new technology.
This project, marks the step from the painting lightly intervened to the multimedia installation, taking advantage of mixed techniques that include elements of varied procedures, accompanied by color and reflections. It is a show that wants to generate sensory effects and invite the viewer to be part of it with its reflections.
​
​
KINESINAS
W Hotel, Santiago, Chile. 2018
Francis House, Santiago, Chile. 2018
Kinesina, Burning Man, Estados Unidos. 2015
​Las diferentes tendencias y técnicas presentes en la obra, con los conceptos del arte digital y también el arte cinético en los distintos grados de interacción de los materiales con la investigación y la tecnología.
Este proyecto, la marca el paso desde la pintura intervenida lumínicamente a la instalación multimedia, aprovechando técnicas mixtas que incluyen elementos de variadas procedimientos, acompañadas de color y reflejos. Es una muestra que quiere generar efectos sensoriales e invitar al espectador a ser parte de ella con sus reflejos.
​
​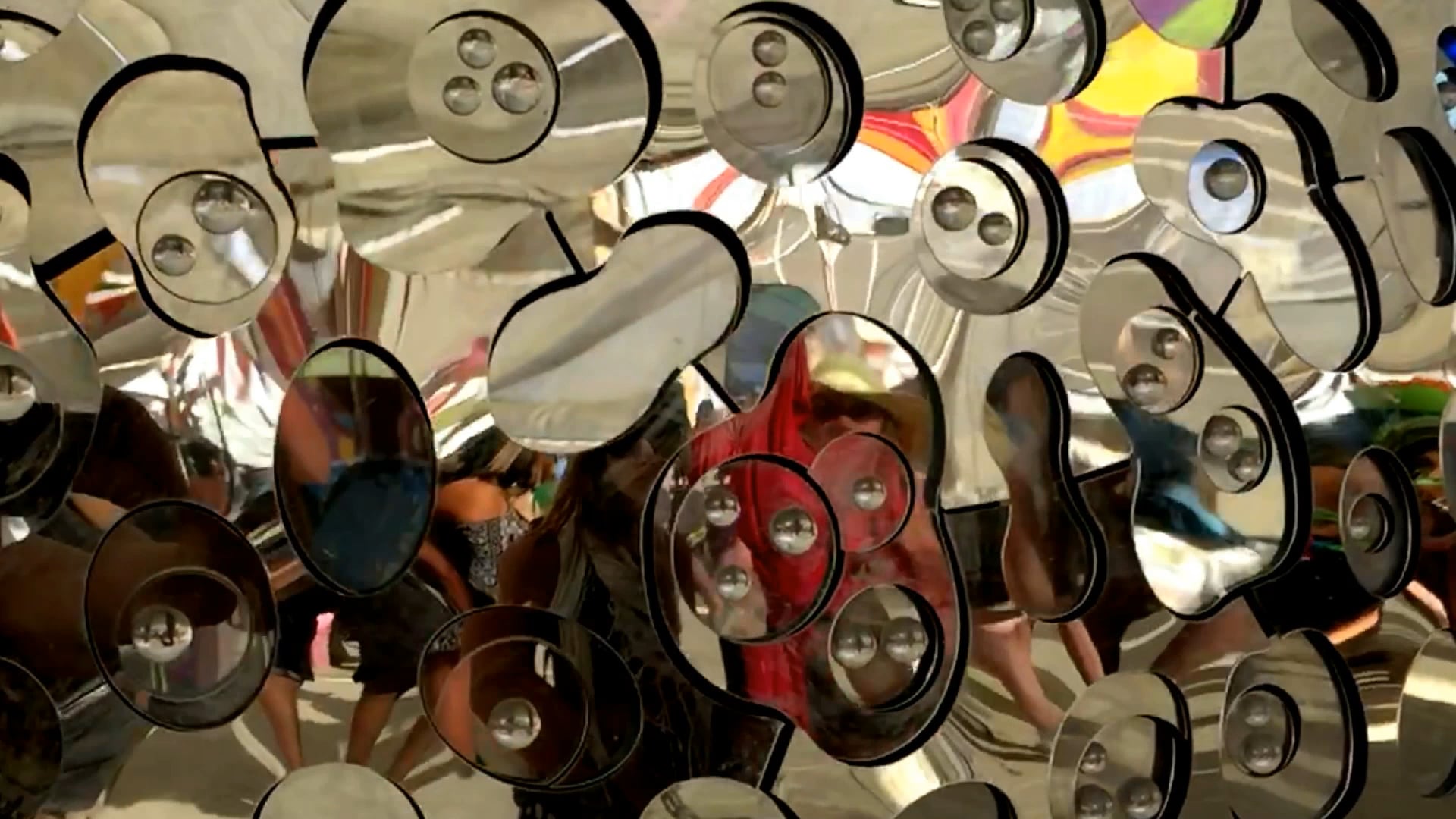 ​
The exposition is a set of two types of works. The Kinesinas are circular works inspired by cellular forms that are found in marine plasma and that have the capacity to acquire diverse representations according to their materiality. The representation of the origin of life, where the elements that make it achieve an optical game. On the other hand Kinedrip are a set of 5 independent square works that achieve an interconnection through light and its reflexes.
DRIPMOVE are works that give life through colors and movements of themselves and those who observe them, they generate an atmosphere of lights, shadows and new abstract landscapes. It is a geometric proposal with a combination in its organic mobile content reflexes. The texture and the image that each one of the parts of the unique and unrepeatable pattern has, since it is produced by the capture of images of the environment.
​
La muestra es un conjunto de dos tipos de obras. Las Kinesinas son obras circulares inspiradas en formas celulares que se encuentran en el plasma marino y que tienen la capacidad de adquirir diversas representaciones de acuerdo con su materialidad. La representación del origen de la vida, donde los elementos que la conforman logran un juego óptico. Por otro lado Kinedrip que son un conjunto de 5 obras cuadradas independientes que logran una interconexión a través de la luz y sus reflejos.
DRIPMOVE son obras que dan vida a través de colores y movimientos de sí mismas y de quienes las observan, van generando un ambiente de luces, sombras y nuevos paisajes abstractos. Se trata de una propuesta geométrica con una combinación en su contenido orgánico móvil. La textura y la imagen que tiene cada una de las partes del patrón único e irrepetible, ya que se produce por la captura de imágenes del entorno.
DRIPLIGHT
​
La persistencia del color y las texturas en las pinturas Driplight es el resultado de la investigación y experimentación con el uso de la luz, el color y los materiales translúcidos que se activan mediante una interfaz que puede regular los colores y su intensidad, generando interacción entre la pieza y el usuario.
Los principios provienen de la anti-forma, que es la manipulación de materiales industriales más allá de la forma. Se entiende que no fue necesario enmarcar el trabajo utilizando los medios artísticos habituales. Después de experimentar con el material, mantiene su esencia aunque puede parecer completamente nuevo.
Usar la resina como si fuera pintura en una pieza que se ve y se siente como una pieza tridimensional, aunque está en una superficie bidimensional.
En consecuencia, en este trabajo presente podemos apreciar las nuevas propiedades del medio recién creado que es estable e inestable, ordenado y desorganizado. Puede parecer frágil e irregular, cuando en realidad es una forma rígida, como resultado de la manipulación controlada, la ambigüedad y la gravedad, que se fusionan al azar para lograr un trabajo con cualidades ópticas y táctiles.
​
1/4
PIPINARA ​
Museum of Contemporary Art, Valdivia, Chile. 2014
COLECTIVO SIÑA - LAZO – KAS
​
Pipinara is an open collective exercise of cooperation and exchange of three art and multimedia laboratories: Siña, Lazo and Kas, bringing together three generations of artists who work with materials, concepts and contemporary media.
The collective formed by Sinalightworks, present a minimalist and highly technological proposal, in which they have developed their own industry to produce their light works, starting from what they define as "the light segment", they create interactive works, kinetic or fixed, activating the spaces with fine light interventions.
Felix Lazo, on the other hand, has worked with several materials and methodologies, concentrating in recent years on the relationship between sound and visual, creating visual and sound interactive works, developing his own tools and digital platforms.
​
Constanza Castaño AKA Kontana Kas, has developed a research in relation to the limits of materials, re-using industrial waste, incorporating resins, paints, LED lights, projections, sounds and elements of transparency, producing a work of a architectural dimension, in which light, time and sound take space.
​
The PIPINARA project proposes a sample of experiences, ranging from kinetic art to digital art, going through several dimensions from the concrete to the virtual.
​PIPINARA ​
Museum of Contemporary Art, Valdivia, Chile. 2014
COLECTIVO SIÑA - LAZO – KAS
Pipinara es un ejercicio colectivo abierto de cooperación e intercambio de tres laboratorios de arte y multimedia : Siña, Lazo y Kas, juntando a tres generaciones de artistas que trabajan con materiales, conceptos y medios contemporáneos.
El colectivo formado por Alejandro y Moira Siña (Sinalightworks), presentan una propuesta minimalista y altamente tecnológica, en la cual han desarrollado su propia industria para producir sus obras lumínicas, partiendo de lo que definen como "el segmento lumínico", crean obras interactivas, cinéticas o fijas, activando los espacios con finas intervenciones de luz.
Félix Lazo por su parte, ha trabajado con varios materiales y metodologías, concentrándose en los últimos años en la relación entre el sonido y lo visual, creando obras interactivas visuales y sonoras, desarrollando sus propias herramientas y plataformas digitales.
Constanza Castaño A.K.A Kontana Kas, ha desarrollado una investigación en relación a los límites de los materiales, re-utilizando desechos industriales, incorporando resinas, pinturas, luces LEDs, proyecciones, sonidos y elementos de transparencia, produciendo una obra de una dimensión arquitectónica, en la cual la luz, el tiempo y el sonido se toman el espacio.
El proyecto PIPINARA propone una muestra de experiencias, que van desde el arte cinético hasta el arte digital pasando por varias dimensiones desde lo concreto hasta lo virtual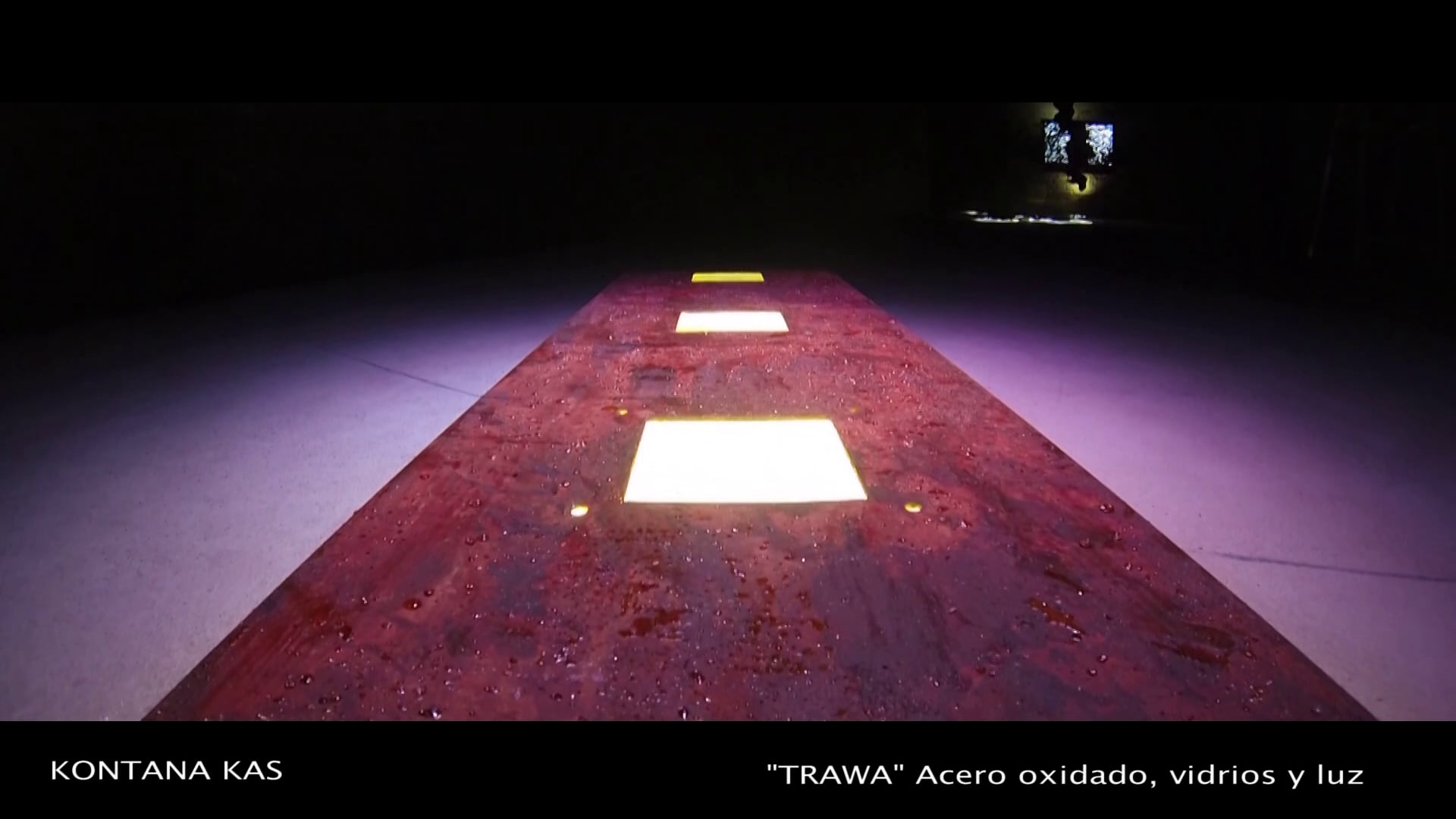 55 A1
Stuart Gallery, Santiago, Chile. 2011
Winning work to the new media contest
National Council of Art and Culture
The piece 55 A1 is an artifact that generates a work of lights, shadows and sounds, from the communion between drones captured from the collisions of the object and the interaction of the observer. On the one hand, its staging by means of the intervention of the public space thanks to the showcase format of the gallery reinforced by the appropriation of the light-color that dyes everything, it covers everything and on the other, the colors and its different light intensities allow to generate textures virtual In addition, the experience and the living inside the gallery determined by the viewer, its location, point of view and possible reinforcement of a psychological atmosphere thanks to the construction of the sound space.
​
It is a project that wants to build a suspended spot that comes from a recycling composed of 55 modules of micro perforated tin trays. It is a geometric proposal with a spatial order based on analogies to movement, suspension and transparency, to generate an organic and multisensory composition. The texture and the grain that each one of the parts has is a unique pattern, which delivers a set of perforations projected in a hypnotic dance of planes and shadows.
​55 A1
Galería Stuart, Santiago, Chile. 2011
Obra ganadora al concurso de nuevos medios
Consejo Naciolat de Arte y Cultura
​
La pieza 55 A1 es un artefacto que genera una obra de luces, sombras y sonidos, a partir de la comunión entre drones capturados de los choques del objeto y la interacción del observador. Por una parte, su escenificación mediante la intervención del espacio público gracias al formato vitrina de la galería reforzada por la apropiación de la luz-color que todo lo tiñe, todo lo abarca y por otro, los colores y sus diferentes intensidades lumínicas permiten generar texturas virtuales. Ademas, la vivencia y el habitar al interior de la galería determinada por el espectador, su ubicación, punto de vista y posible reforzamiento de una atmósfera sicológica gracias a la construcción del espacio sonoro.

​
Es un proyecto que quiere construir una mancha suspendida que nace de un reciclaje compuesto por 55 módulos de bandejas de lata micro perforada. Se trata de una propuesta geométrica con un orden espacial basado en analogías al movimiento, la suspensión y la transparencia, para generar una composicion organica y multisensorial. La textura y el grano que tiene cada una de las partes es de patrón único, que entregan un juego de perforaciones proyectadas en un hipnotico baile de planos y sombras.
1/5
GEN TRANS GEN
Bloc Gallery, Santiago, Chile. 2013
​
This piece is born from the observation about the constant alteration, mutation and genetic crosses in which we find ourselves involved.
In two machines that interact constantly, they pass from scales and meanings, in a volume of suspended light with subtle movements and sharp sounds, dialogue with the incubator of erratic and random movements, building an atmosphere of lives and dramas.
Gene Trans Gen is a project that manifests a social alert to the food business, the science manipulation system mishandled by monetary interests and the creation of obscure transgenic processes. The constant alteration, mutation, crosses in the gestation of the genetics and in the accommodation of the gene, give content to this piece.
The idea is to represent an incubator cocoon of the process of controlled creation through experiment and energy, as a metaphor to the process of over manipulation in the harvests that we feed on, leaving the conversation open to food controlled by the transgenic and perverse private companies that seize the seed patents in the world.
GEN TRANS GEN
Galería Bloc, Santiago, Chile. 2013
​
Esta pieza nace de la observación sobre la constante alteración, mutación y cruces genéticos en que nos vemos envueltos.
​
En dos maquinas que interactuar constantemente se pasan de escalas y significados, en un volumen de luz suspendido con sutiles movimientos y agudos sonidos, dialoga con la incubadora de erráticos y aleatorios movimientos, construyendo una átmosfera de vidas y dramas.
​
Gen trans gen es un proyecto que manifiesta una alerta social hacia el negocio de la alimentación, al sistema de manipulación de ciencia manejada erróneamente por intereses monetarios y la creación de oscuros procesos transgénicos. La constante alteración, mutación, cruces en la gestación de la genética y en el acomodo del gen, dan contenido a esta pieza.
La idea es representar un capullo incubadora del proceso de creación controlada a través del experimento y la energía, como metáfora al proceso de sobre manipulación en las cosechas de las cuales nos alimentamos, dejando abierta la conversación hacia la alimentación controlada por lo transgénico y por perversas empresas privadas que se apoderan de las patentes de semillas en el mundo.
IN + PULSO
La Hormigonera Cultural Center. Barcelona. Spain. 2013
This work was presented at the cultural center "La Hormigonera" in Barcelona and is presented with the direct participation of the artist and the participant invitation of the viewer, which can interact and intervene images and objects through controlling interfaces and computerized machines. The generated sounds are giving form and movement to the projected images, thus by means of computers and controllers they can construct hypnotic atmospheres. The spectators become participants of the control station, being able to learn intuitively and become a generating part in joint participation with the artists.
IN + PULSO
Centro Cultural La Hormigonera. Barcelona. España. 2013
​​
Esta obra se presentó en el centro cultural "La Hormigonera" de Barcelona y se plantea con la participación directa de los artista y la invitación participativa del espectador, el cual puede interactuar e intervenir las imágenes y objetos mediante interfaces controladoras y máquinas computarizadas.
​
Los sonidos generados van dando forma y movimiento a las imágenes proyectadas, así mediante computadoras y controladores pueden construir hipnóticas atmósferas. Los espectadores se hacen participes de la estación de control, pudiendo aprender de manera intuitiva y pasar a ser parte generadora en conjunta participación con los artistas.
1/5
INTERFACE 21
Galería Local Project. New York. United Estates. 2012
Illumitate Festival. Nueva York. . 2012
​
It is an experimental work that is presented as a performance of several continuous hours, where the playful takes over the place. The Local Project Gallery N.Y. I present this Kontana Kas project that has the collaboration of Alejandro and Moira is shown as a multimedia laboratory in real time, sounds, images and colors projected to the contact of the viewer are the ingredients of this exposition.
INTERFACE 21
Galería Local Project. Nueva York. Estados Unidos. 2012
Illumitate Festival. Nueva York. Estados Unidos. 2012
​​
Es una obra experimental que se plantea como performance de varias horas continuas, donde lo ludico se apropia del lugar. La galeria Local Project N.Y. presento este proyecto de Kontana Kas que cuenta con la colaboracion de Alejandro y Moira se muestra como un laboratorio multimedia en tiempo real, sonidos, imagenes y colores proyectados al contacto del espectador son los ingredientes de esta propuesta.​​​
1/4
DRIPLIGHT
​The proposal to generate three-dimensional objects in a two-dimensional support as a sculpture-mural results in Driplight works. They are mobile landscapes on an immobile support generated through the union of industrial translucent materials and the appropriation of light-color that stains everything by being back-illuminated.
​
They can seem fragile and irregular, when in reality it is a rigid shape that with its textures and virtual colors deliver a work composed of the stable and unstable, the ordered and disorganized achieving movements thanks to the optical games producing an effect of depth.
​
The exploration of these works invites the viewer to discover tactile microworlds on the outside and shapes with color contrast when they lower or increase their light intensity. The location of the viewer allows them to feed on a plurality of meanings, generating works with optical and tactile qualities.
DRIPLIGHT
​La propuesta de generar objetos de tres dimensiones en un soporte bidimensional a modo de una escultura-mural dan como resultado las obras Driplight. Son paisajes móviles en un soporte inmóvil generados a través de la unión de materiales translúcidos industriales y la apropiación de la luz-color que todo lo tiñe al estar retro-iluminados.
​
Pueden parecer frágiles e irregulares, cuando en realidad es una forma rígida que con sus texturas y colores virtuales entregan una obra compuesta por lo estable e inestable, lo ordenado y desorganizado logrando movimientos gracias a los juegos ópticos produciendo un efecto de profundidad.
​
La exploración de estas obras invita al espectador a descubrir micro mundos táctiles en su exterior y formas con contraste de color cuando estas bajan o suben su intensidad lumínica. La ubicación del espectador permite que se nutran de pluralidad de significados generan obras con cualidades ópticas y táctiles.
​
1/10
1/2
TRILITE
Laboratory paint: the persistence of color
Stuart Gallery 2010

Laboratory paints are the result of research and experimentation on the use of color. The works were created especially for this exhibition, and their formats, as well as the assembly of the designs for the gallery of the Stuart Gallery.
The principles of the antiform in large-scale work from industrial materials, that is, manipulating materials beyond form. It is understood that it was not necessary to frame his work under a presentation medium. The material itself, after being investigated, appears in its nature, acquiring a presence of its essence. The spatial behavior, density and abstraction of the work were close to the pictorial, since they worked the wall as a pictorial surface with a three-dimensional appearance like action painting, but they distanced themselves from the author's egocentrism. Consequently, my work has gone through these r